Levi, the Lion King himself!
LEVI ...  will remind you of the lion king!  He ambles along yawning and watching over his kingdom, always looking for that shady place to position himself! If a bloodhound was ever born that wasn't interested in the show ring or trailing, then this is the one!  We tried to teach him  to trail, my husband was working him with me standing behind a tree up the road, they end up walking by me with Levi cocking his head in my direction as if to say  "Why are you hiding there?" 

He loves his "cookie" treat over anything else and he will do just about anything for it , up to and including letting you wash his face (he isn't too interested in being bathed)!  Now he doesn't mind getting in the baby pool to play and get himself cooled off but oh' my don't you dare touch that hose around him, he would hang himself trying to get away and this is the fastest we have ever seen him move ... other than getting away from the wasp that is after him!

He enjoys having his chest rubbed as he will raise up on the kennel door and press his big chest against it and would stay there for hours, if you would rub him that long. He is a talker, really kinda a wimp if you want to know the truth,  but he sounds like the BIG DOG of the house. Max is his true buddy!

Levi stands 30 inches at the shoulder and weighs in around 140 lbs at just a little over a year old. He was born in southern Missouri, out of Tranquil Acres Bloodhounds.  When visiting with this breeder, I was looking to get a female (Ruthie) and thanks to Kay, Levi also came home with us ... he is priceless!
 
Levi has gone through all of his health clearances and come out passing all of them. We are so happy as we feel he will pass on some wonderful genes!  Should you want to view them, please go to www.offa.org, enter his name into the search area and it will pull all of them up for you to view. He has also had a blood test in 2014 for brucellosis and he was negative.

Any questions, please don't hesitate to ask us.
We have made the very hard decision to retire Levi and locate the perfect home for him to live out his life. This home will have to be able to give him alot of love and attention so that he can adjust smoothly! We will be super picky as we love this big guy, but he deserves a home life rather than the kennel.

January 2017 - Levi has moved to his forever home, to live out his life with alot of love and attention and one of our offspring! They are saying he sure enjoys all the lovin's that he is getting!
Flat Creek Low Hangin' Levi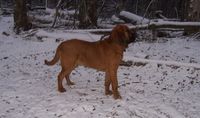 AKC# HP34560502 Born: 5/23/2009 RD BREEDER: KAY WILSON DNA# V575967
You are visitor number: 77071